November is now recognized as the National Alzheimer's Awareness Month, all thanks to former U.S. President Ronald Reagan. Sadly, Regan would later succumb to Alzheimer's in 2004 after nearly a decade spent battling the disease. It serves as a bleak reminder that the degenerative condition doesn't target a specific demographic or group of people; it can affect anyone, whether poor, rich, unknown, or famous. Several other celebrities have suffered from the cognitive disorder, and unfortunately, many more famous people with dementia also succumbed to the disease.
Celebrities and Famous People With Dementia
Ronald Reagan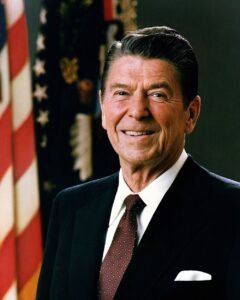 Reagan was 83, in August 1994, when he found out that he was suffering from an incurable neurological disorder. He informed the nation about his diagnosis later in November through a handwritten letter. In part, Reagan said that he was one of the millions of U.S. citizens who were afflicted by Alzheimer's Disease.
Reagan's son Ron shared in his 2011 book that his father's dementia had presented itself as early as 1984. Ron later tempered his claims during an interview with The New York Times. He explained that he doesn't believe the disease inhibited his father's time in office, but rather, it could have been "present in him" years before the diagnosis.
The disease progressively affected Regean's mental capacity over the years, but he was able to still recognize his wife Nancy and a few other people. He's also said to have maintained regular visits to beaches and parks near home, and he also played golf until 1999.
Pneumonia is what claimed Reagan's life, aggravated by Alzheimer's disease.
Robin Williams
Robin Williams suffered from a host of symptoms including confusion, depression, paranoia, and Parkinson's disease. Collectively, he had the disorder called dementia with Lewy bodies (DLB). His widow, Susan Williams, shared their ordeal with the disease during a 2015 interview with Good Morning America.
Susan likened it to a "sea monster" that had 50 tentacles of symptoms manifesting when they wanted. She added that the disease is chemical warfare attacking the brain and it only reveals itself when the affected person dies.
Susan also revealed that leading up to his untimely death in August 2014, Williams had disintegrated before her eyes. He was losing his mind and very much aware of it, and the pressure of it all pushed him to take his own life.
James Doohan
Canadian actor James Doohan revealed that he had Parkinson's disease and Alzheimer's disease in July 2004. Doohan explained that he would withdraw from public life given his health condition.
Doohan also suffered from several other ailments, partially as a result of his lifestyle, and some of his afflictions were post-World War II injuries during his military service. He had high blood pressure, diabetes, hearing loss, liver cirrhosis, and osteoarthritis.
Chris Doohan, his son, explained that his father's Alzheimer's diagnosis came about from his increasing short-term memory loss. However, his long-term memory appeared to have been intact.
Chris also said that his father's energy seemed to be diminishing and he looked frail. Doohan passed away in July 2005 from complications brought about by pulmonary fibrosis.
Rosa Parks
Legendary civil rights activist Rosa Parks is also on the list of famous people with dementia, and for her, it started when she received an eviction notice in 2002 for non-payment of rent. She hadn't been able to keep up with her monthly $1,800 rent payments owing to age-related mental and physical decline. A collection from the Baptist Church in Detroit covered her rent, but Parks recurrently couldn't keep up with her financial affairs.
The incident was highly publicized in 2004, and by then, Parks was 91 years old and in extremely poor health. Her medical records were released when a lawsuit filed on her behalf against the hip-hop group OutKast went to court. Lawyers claimed that the duo had defamed her by using her name for their 1998 single "Rosa Parks" without permission.
Gregory Reed, Parks's lawyer at the time, explained that she had severe mental impairment and dementia that prevented her from testifying. Reed added that "it comes and goes," but Parks was receiving care at home. She passed away in 2005 from the condition.
Gene Wilder
Gene Wilder's family shared the terrible effects of Alzheimer's in 2016 following his death. His fourth wife Karen and the daughter he adopted from their marriage were well taken care of following his demise. It all falls back to good estate planning, which is something people with neurological disorders typically don't have the chance to leave in order.
Wilder had been diagnosed with Alzheimer's in 2013 and the public wasn't aware of his condition until his death. The disease took his life in August 2016, and according to his family, the decision not to share the news with the public wasn't vanity. They didn't want young children to get exposed to adult references of the illness, given that Wilder left a lasting impression when he appeared in the 1971 film Willy Wonka & the Chocolate Factory.
Karen poured her efforts into bringing attention to the disease, and Wilder's Willy Wonka character was used in a Pure Imaginations Projects Alzheimer's awareness campaign.
Glen Campbell
When country star Glen Campbell embarked on his final tour in 2011, he shared that he was suffering from Alzheimer's disease. Campbell was the subject of James Keach's documentary titled Glen Cambell: I'll Be Me that examined how the disease affected his musical performances while he toured across the U.S.
Campbell's wife Kimberly spearheaded the documentary and has openly shared what it means to be a wife and caregiver to someone with Alzheimer's. Kimberly explained that she would help him with daily tasks like changing his shirt and it wasn't easy because he would sometimes become agitated and fight her away. She knew that he just wanted to maintain some semblance of dignity, and she would patiently return to the task once he had calmed down.
The illness claimed Campbell's life in August 2017. Kimberly released a memoir titled Gentle on My Mind: In Sickness and in Health with Glen Campbell detailing their life together in June 2020.
Peter Falk
Peter Falk, known for starring in the long-running crime drama Columbo, was reported to have Alzheimer's disease in 2008. An incident earlier that year at a Beverly Hills street reported that Falk had been behaving erratically and he appeared disoriented. Passerbys had to call the police to subdue him.
The next year, a conservatorship trial revealed more details about his state, with his personal physicians saying that he slipped rapidly into dementia. It started after a series of dental operations Falk had in 2007. Dr. Stephen Read explained that it wasn't clear whether the anesthesia had worsened his condition or yet another unknown reaction to the procedures. The judge appointed his wife Shera Danese as his conservator.
Falk passed away on June 23, 2011, at his Roxbury Drive home, and his death was ruled to have been caused by pneumonia aggravated by complications of Alzheimer's disease.
Tom Benson
Sports franchise owner Thomas Milton Benson is remembered for owning the New Orleans Saints. By the Christmas season of 2014, Benson who was 87 years old had become increasingly forgetful. He had undergone a series of knee surgeries and the pain medication was identified as the potential trigger to his forgetfulness.
Amidst legal feuds between his family members, a court declared Benson competent to oversee his business affairs in 2015, despite the allegations that he had Alzheimer's. Benson changed his will and testament leaving his entire fortune to his third wife Gayle.
Benson died in February 2018 after being hospitalized at the Ochsner Medical Center for a month with the flu.
Charlton Heston
Charlton Heston was amongst the well-known famous people with dementia and he memorably starred in The Ten Commandments (1956). In August 2002 Heston released a taped message announcing that he had symptoms of Alzheimer's disease. He retreated from public life after his final appearance at the White House in July 2003 to receive the Presidential Medal of Freedom.
Various newspapers were reporting in March 2005 that his friends and family were shocked by his level of deterioration. The progression of the illness had left him weak to the point of not being bedridden sometimes.
Heston passed away in April 2008 at his Beverly Hills home with his wife Lydia by his side. The two had been married for 64 years.
Sugar Ray Robinson
Five-time world middleweight champion Sugar Ray Robinson died in April 1989 from complications of Alzheimer's disease. Robinson had been receiving treatment at the Brotman Medical Center for diabetes and other symptoms related to Alzheimer's.
Robinson was completely dependent on his wife Millie for his daily needs and care. Reports also revealed that he was hypertensive and barely able to speak in the year that he battled the illness before his demise. Millie said that she could have hired help to help care for her husband, but she didn't mind doing it. She added that she didn't want him subjected to any kind of ill-treatment and that's why she chose to take control of his care.
Closing Thoughts
Revisiting the experience of these 10 famous people with dementia and the experiences of family members, we are reminded that neurological disorders can affect anyone indiscriminately.
There are certain risk factors that lead to the disease, with age, genetics, and family history being some of them. The bottom line is that Alzheimer's is not a disease that is exclusive to a certain demographic but anyone can develop it.