What is The Brain Booster Program?
Brain Booster is a unique, all-natural program specifically designed to prevent cognitive decline by tackling brain health deterioration at its source.
The very effective program provides easy to use, step-by-step guidance with specific techniques to increase brain blood flow, essential to the delivery of oxygen and nutrition and crucial for optimum brain function.
Why Do We Support this Program?
Primarily, we see tremendous benefit in the prevention of dementia and dementia related illnesses. Many of our articles give guidance to our viewers on dementia prevention.
The Brain Booster program gives a practical, easy-to-do, solution to reversing early cognitive decline by restoring blood flow to the brain. Their approach to the program is supported by research and acceptable professional practices.
When people follow the steps presented in the program, noticeable results are achieved within days.
This is impressive, and the company backs its claim with a 60-day money back guarantee.
In our view, there is nothing to lose and plenty to gain from giving the program a try.
Understanding A Root Cause of Brain Health Decline
Memory loss and brain fog happen for a reason (not just old age). There are specific elements and functions in your body causing cognitive decline.
Scientists have known for many years that when blood flow to the brain is restricted, the brain is starved from the essential components it needs to function properly. These essential components are oxygen, glucose, and nutrients.
Insufficient Oxygen
According to the National Center for Biotechnology Information, while making up only a small part of our total body mass, the brain is the most metabolically demanding organ and utilizes 20% of the body's oxygen.
Of this, it is estimated that neurons consume 75%–80% of the energy produced in the brain.
Therefore, it is  not surprising that the brain is one of the organs that are most prone to limited oxygen.
Without oxygen, the brain's cells cannot metabolize glucose, and therefore cannot convert glucose into energy.
Researchers (PNAS.org: Hyder et al., 2013) have proven that when a brain doesn't receive sufficient oxygen, it starts to malfunction.
Symptoms of Insufficient Oxygen to the Brain Include:
Forgetfulness
Disorientation
Unable to focus
Attention weakens
Become increasingly confused
If the flow of blood is slowed or blocked in any way these problems occur and will worsen over time unless oxygen to the brain is restored.
Research has proven this in both mice (Medical News Today) and with humans (see 'Bonus Research' below).
What Happens When There is a Major Lack of Oxygen to the Brain?
Brain Plaque
Throughout the brain a sticky substance call plaque is created, interfering with how the brain neurons fire. In a healthy brain these plaques are rare.
In a brain not receiving sufficient oxygen the plaque continues to accumulate over time, worsening the conditions associated with mental decline (Small et al., 1995; Silverman et al., 2001) (See 'Bonus Research' below).
Oxygen for the Metabolism of Glucose
In addition, without energy to power the brains neurons, brain cells will not function as they should and may die. Oxygen is needed to metabolize glucose into energy.
Research shows that this disruption of oxygen metabolism is a root cause of various age-related neurodegenerative diseases associated with cognitive decline.  (Tabrizi et al., 2000; Silverman et al., 2001; Zhou et al., 2008).
What the Brain Booster program does do is reverse the process. It is like turning the tap of oxygen and nutrients to the brain back on. Do this and the brain is on its way back to working as it should.
The reversal process can be noticeable quite quickly.
Who Created the Brain Booster Program?
Brain Booster was developed by Christian Goodman.
Christian Goodman, CEO of Blue Heron Health News, has an obsession for natural health research. He and his like-minded team have found solutions to different health problems that are rampant in modern society.
Goodman's approach to tackling illness is to address the cause of the problem stemming from lifestyle circumstances. His is a natural approach.
Why Not Use Drugs?
Goodman's view is that drugs prescribed will, in most cases, only mask the illness or suppress the symptoms, however, the underlying illness is still there.
Prescribed drugs may help some health conditions, but with the brain it is far better to deal with the root problem, not mask symptoms.
Christian Goodman has taken known science and already proven methods, bringing them together to create the Brain Booster program. He 100% guarantees his programs.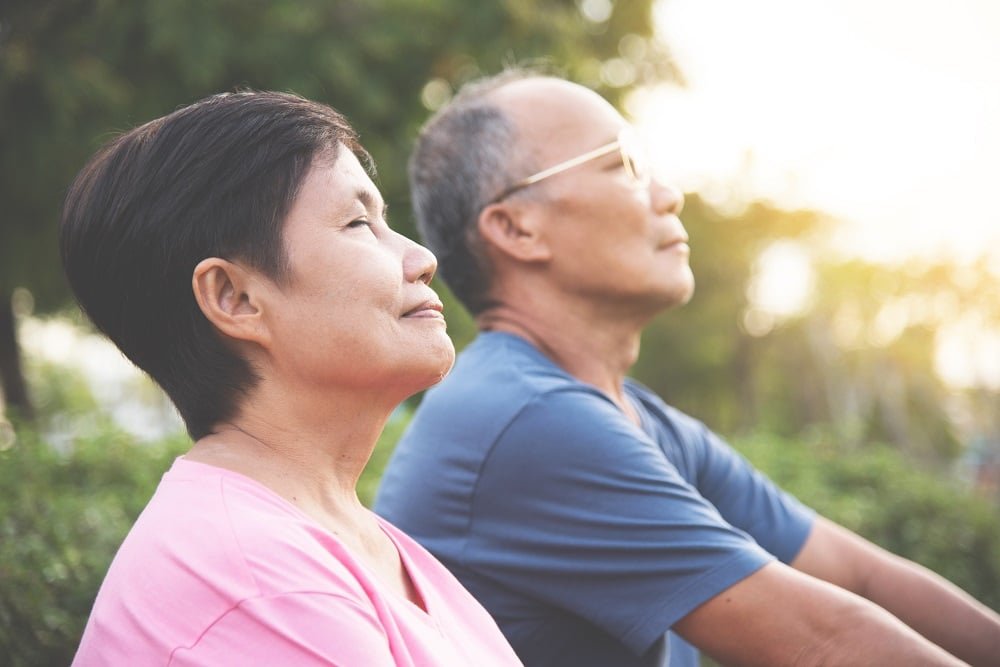 Understanding Why Blood to the Brain is Being Restricted
Blood travels through veins, arteries, and capillaries. These must pass through the tissues of the body. There isn't a lot of space. Space is needed to allow the vessels to expand and contract as blood is pumped by the heart
When the body is functioning normally, veins, arteries and vessels will be able to do this efficiently and pump blood ladened with oxygen and nutrients to the brain.
However, if the surrounding tissues are tight and inflexible then the vessels will be restricted on their ability to expand with each heartbeat.
Internal muscles do get tight as people get older. This is not always noticeable until it causes problems- like brain decline.
The Brain Booster Program starts the flow of oxygen-rich blood back to the brain within days.
Restoring Brain Health
Brain Booster's key principals to reversing cognitive decline are:
1.Breathing for the Brain
We breath 20 000 times a day. Having only a slight decline in a breath may seem to be nonproblematic in passing oxygen to the brain. However, 20 000 breaths, will lead to a greater deficiency of oxygen. This will be repeated day after day.
A small improvement in the efficiency of oxygen to the brain can make a large difference.
2.Fixing the Muscles that Are Suffocating the Brain
Tense, inflexible internal muscles that are restricting blood flow in veins, arteries and vessels can be loosened up to oxygen and nutrients to the brain.
Loosening up of muscles works in conjunction with breathing for the brain. No point in breathing for the brain and having muscles restricting the flow of blood.
3.Target Oxygen Directly to the Brain
Oxygen deprivation to the brain affects certain areas of the brain. These areas differ from person to person- hence symptoms differ from person to person.
The program uses techniques to move blood from one brain area to another, diverting it so the whole brain gets blood flow.
Brain Booster's Exercise Techniques
The basis of the program are daily exercises utilizing the breath and body.
Not to fear, these are not strenuous difficult exercises that raise a sweat. They can be done whilst sitting, going for a walk, watching TV, or when driving. There are different exercises to choose from.
What to Expect from the Program
The Brain Booster program is 100% safe and completely natural with no equipment required. You can do the program in the comfort of your own home with your own schedule. It doesn't take a great deal of time, nor strenuous exercises.
The Brain Booster exercises are simple, feel good and therapeutic. They are not strenuous.
Body Balance Exercises
Breathing Exercises
The Mind Body Exercise
Head Muscle Exercises
The exercises will involve deep breathing– step-by-step guidance provided in the program. (see notes under Bonus Research on focussed breathing)
The whole program is completely digital. It can be downloaded onto your smartphone, tablet device, kindle or desktop computer.
This allows you easy quick access to the program wherever you may be- important for keeping you on track.
For those of you not so tech savvy, simple step by step instructions are given to show you how to put Brain Booster on your devices.
What You'll Learn in the Brain Booster Program
The program begins by giving you the foundations of the treatment and how to get the most from it.
Next, the program goes into the process of healing.
The exercises are divided up into categories. Each exercise comes with step-by-step instructions and diagrams on how to do each exercise.
For best results, exercises should be completed every day, however, if that doesn't suit, the program does provide other options.
At the conclusion of the program there are tips on what to do moving forward. This is so you learn how to keep the benefits flowing.
Program Table of Contents
Welcome
How the Program Works
How to Work the Program
Breathing Exercise 1
Body Balance Exercises

Freeing the Neck
Exercise 1
Exercise 2
Exercise 3
Exercise 4
Calf Drop
Feet on the Wall
Sitting Floor
The Relaxed Frog

Breathing Exercises

Nostril Balance
Rhythmic Walking
Breathing Laughter

Head Muscle Exercises

Chewing
About to Yawn
Delightful Surprise
Tongue Rolling

The Mind Body Exercise
Beyond This Program
Our Verdict ✅
Providing a simple, easy to do, solution to reversing cognitive decline offers our viewers an opportunity to improve their brain health or the health of their loved ones.
This is a unique program helping to prevent the onset of dementia and Alzheimer's Disease. We haven't seen any like it.
Employing science and proven methods, the Brain Booster repairs damage to the brain, restoring brain health. In doing so optimal blood flow to the brain is rectified, delivering essential oxygen and nutrients.
Giving your brain a boost using an all-natural process without medications, equipment nor strenuous exercise is a huge plus. Anyone can do the program easily from their home.
The program is inexpensive, providing tremendous value.
Christian Goodman backs Brain Booster with a 100% money back guarantee, with 60 days for you to use the program and discover for yourself its benefits. If is not for you then you can easily get a full refund.
Bonus Research
Focussed Breathing
Researchers at Trinity College Institute of Neuroscience and the Global Brain Health Institute discovered that focused breathing directly influences levels of noradrenaline, a natural brain chemical messenger.
Noradrenaline is released into the bloodstream when you are curious, focused, or emotionally aroused. It heightens your attention to detail and enhances overall brain health by promoting the growth of new neural connections.
Plague and Reduced Oxidation of Glucose Leading to Alzheimer's
Alzheimer's mostly affects short-term working memory and is classified by the presence of two hallmark neuropathologies; extracellular amyloid plaques and abnormal accumulations of a protein called tau that collect inside neurons.
In AD patients, regional decreased brain glucose consumption is a predictor for progressive cognitive decline and reduced oxidation of glucose is associated with carriers of the AD risk allele of the APOE-4 gene (Small et al., 1995; Silverman et al., 2001).
Cell Death of Neurons
Oxygen and glucose deprivation to the brain cause cell death Study Sept 2020 National Center for Biotechnology

Reference:
Hyder, F., Rothman, D. L., and Bennett, M. R. (2013). Cortical energy demands of signaling and nonsignaling components in brain are conserved across mammalian species and activity levels. Proc. Natl. Acad. Sci. U S A 110, 3549–3554. doi: 10.1073/pnas.1214912110
Zhou, C., Huang, Y., and Przedborski, S. (2008). Oxidative stress in Parkinson's disease: a mechanism of pathogenic and therapeutic significance. Ann. N Y Acad. Sci. 1147, 93–104. doi: 10.1196/annals.1427.023
Silverman, D. H., Small, G. W., Chang, C. Y., Lu, C. S., Kung De Aburto, M. A., Chen, W., et al. (2001). Positron emission tomography in evaluation of dementia: regional brain metabolism and long-term outcome. JAMA 286, 2120–2127. doi: 10.1001/jama.286.17.2120