Persons living with dementia and their caregivers or loved ones will at one point have to deal with dementia and financial problems. This is because as the illness progresses, affected individuals normally struggle to manage their finances.
At the onset of the illness, affected individuals may complete simple tasks such as paying bills without any problem. They may experience difficulties completing tasks like balancing check books. Later on, they can lose their ability to handle money matters.
Seniors with dementia may either need additional support or someone reliable and trustworthy should take over the management of finances. There are several areas where a person with dementia may struggle with finances and these may include:
Difficulties Managing Money
Persons with dementia will most likely have continuing financial responsibilities such as credit cards, mortgages, personal loans, or other forms of credit. Some may even have kids who depend on them financially.
Sadly, living with dementia may result in less income, which is something that can create pressure when it comes to keeping up with financial responsibilities.
It is recommended that people who have dementia seek financial advice as soon as possible to know how best to manage their funds. It is usually important to make decisions in advance so that things are handled the way the affected person would want them to be handled.
Signs of Dementia and Money Problems
Be on the lookout for signs of money problems. For example a person with dementia may have difficulty counting change, calculating a tip, paying for a purchase, balancing a checkbook, or understanding a bank statement. They may be afraid or agitated when talking about money. You may also notice:
Unpaid and unopened bills
Unusual purchases on a credit card
Strange new merchandise
Money amiss from the person's bank account
Having a Separate Bank Account With Limits
Setting up standing orders for regular bills like rent/ mortgage, electricity, and gas is a good way to make sure a person does not forget to make payments.
When it comes to dementia and bank accounts, it is usually best for persons with dementia to have a separate account that will cater for care expenses. It is also advisable to have limits set on the bank account to manage withdrawals.
A trustworthy person should be put in charge of noting the money that comes in and out of the account so that the individual with dementia does not become a victim of fraud.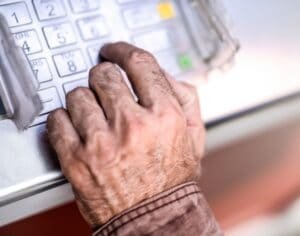 Explore Available Benefits
It is also important to explore benefits available for persons with dementia to help ease the financial burden.
Persons who are over the age of 65 may benefit from Attendance Allowance, Pension Credit, Housing Benefit, and Council Tax Reduction among others.
Looking at insurance options can also be another great way to help manage money well. Additionally, affected individuals can also look into free and low-cost community services they can take advantage of.
Problems Remembering PINs
One of the points that come up when discussing dementia and managing money is the inability to remember PINs (Personal Identification Numbers). If the person with the progressive illness can still effectively take care of their finances, it would be best for them to use chip and signature cards.
This way, the affected person will not need to remember any numbers as they will only provide a signature when they need to access their money. It is also possible to set up direct debits that can be used for bills so that the person with dementia does not have to worry about making payments.
Giving Money Away Aimlessly
It is also important to talk about dementia and giving money away. Many caregivers agree that some people with dementia become over-generous with their money. Sadly, in most cases, they are victims of scammers.
Scams
Unscrupulous individuals may contact the person with dementia requesting donations or offering fake "special deals".
If necessary, consider changing their number so that scammers do not have access to the sick individuals.
Registering the persons on a Do Not Call registry is also necessary to protect seniors from unwarranted calls.
Frugal with Money
Persons with dementia may start giving away money or spending it on unnecessary things. This is a common issue. For instance, a person may purchase 10 similar outfits or household items they will never use. This can especially be noticeable if a person was previously frugal and their spending habits suddenly change.
For some individuals, the topic of dementia and money obsession becomes apparent. A person with dementia may show strong signs of becoming obsessed with money. They may even accuse caregivers of stealing their cash when this is not the case.
Fake Money
If a person with dementia wants to constantly see their money, and become agitated when they cannot, then carers can purchase fake money and place it in their wallets or somewhere where they can see the cash with ease. This helps to keep them calm and happy. It will reassure them that people are not steeling from them.
In the above scenarios, it is advisable to talk to the affected person about the recent changes in their lives concerning dementia and financial problems.
If this does not sit well with the affected individual, consider asking professionals like an attorney or clergy to speak to them.
Limiting Access
Limiting access to check books and credit cards can also help limit a person's access to money so that they do not give it away carelessly.
It is also advisable to appoint a durable power of attorney who will help properly manage finances.
Take note if there is any form of elder financial abuse. This is where other people take advantage of seniors by misusing their money or property. Such cases warrant reporting to the police as well as local Adult Protective Services (APS) organizations.
Signs of Financial Fraud or Abuse
Signatures on checks and other important documents do not match the signature of the person with the illness.
An individual's house is under sale or has been sold without them giving permission.
The person's will has been changed without their knowledge.
The individual is missing valuable items such as jewellery from their home.
The affected person has signed legal papers like power of attorney, will, or joint house deed without knowing what the papers are all about.
Closing Thoughts
After a dementia diagnosis, it is common for affected persons and their loved ones to have to deal with dementia and financial problems. Individuals with the progressive illness need to be given enough support from reliable professionals as well as their relatives or friends to ensure they appropriately manage their finances throughout the illness.
Reference