The best time to correct early signs of dementia is right now, rather than waiting for cognitive decline to become a real problem. In this article we show you how to prevent dementia naturally.
To understand what the early signs of dementia are view our article HERE.
A key element medicine is missing
The problem in medicine is the lack of importance of diet and how this effects your brain.
Medicine does not connect the dots and make the links between diet and your brain. Medicine may point cognitive decline to genetics, stress or things just happen and you cannot do much about it. However, your diet is key to preventing and even reversing early dementia.
The Hippocampus
A complex brain structure rooted deep into temporal lobe is called the Hippocampus. It plays a major role in learning and memory. The hippocampus is a plastic and vulnerable structure that, if not nurtured, can be damaged. People with dementia have a shrinking or damaged hippocampus. There are easy natural things that you can do to care for your hippocampus.
How to Prevent Dementia Naturally
Vitamin B1
What would shrink your hippocampus?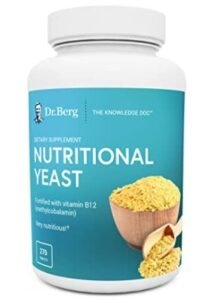 One thing that could be a real problem with your hippocampus is a Thiamine deficiency. That is a Vitamin B1 deficiency. The demand for thiamine goes way up when alcohol and carbohydrates are consumed. Vitamin B1 is needed to metabolize carbs and alcohol.
The more sugar you eat, the more carbs you consume, and the more alcohol you drink, the more you need vitamin B1.
Nutritional yeast is the best source of B1. Make sure you get natural yeast that is not fortified with synthetic vitamins. Synthetic vitamins might work initially but are not a good long-term solution.
Of course, you want to do things to prevent a B1 deficiency by giving up alcohol, reduce sugar and carbs in your diet.
The good news is that you can consume plenty of vegetable carbs.
Fix the Gut
You want to fix the gut microbiome.
There has been interesting research on Alzheimer's Disease and Parkinson's Disease. Research points to a lack of diversity in the microbiome of the gut in people with these diseases. There is also a correlation with these patients having gut inflammation, with leaky gut being common.
Also realize that the gut and the brain are by-directional. Through the vagus nerve you have information going from the gut to the brain and information from the brain going to the gut. If you have a problem with your brain you'll have a problem with your gut. If you have a problem with your gut, you can have a problem with your brain.
Interestingly, our gut microbes produce neurotransmitters, and they can synthesis B vitamins.
Having a healthy diversified gut microbiome is essential to preventing cognitive decline.
4 ways to fix the gut
1.Vegetables
One of the best ways to increase diversity of the microbiome is to start consuming vegetables.
Look for a wide variety of vegetables, and different types of salads that have a variety phytonutrients and fibers. Organic vegetables are best.
2.Fasting
Another way to increase the diversity of microbiome is to introduce fasting.
Many would think that fasting would starve the microbes, resulting in them getting weaker. Yet, the very opposite happens. They get stronger and new strains come out and try to survive. It is part of a survival mechanism that has been evolving for eons.
3.Gluten
Research has found that when people with dementia are taken off gluten, they are seeing huge improvements in dementia. Gluten can worsen dementia.
Being on a gluten free diet is not enough. There needs to be low carbs and no grain.
4.Stay away from GMO foods
Foods that have been exposed to glyphosate (a herbicide) are not good for your gut biome. Glyphosate destroys microorganisms like bacteria. This affects our gut microbes, just like it affects the microbes in the soil.
The reason GMO foods are a problem is because they have been genetically modified to tolerate heavy applications of the herbicide. That way, farmers can spray glyphosate on their GMO crops to kill weeds without killing the crops.
Seek out non-GMO foods. Better still, seek organic foods that have not been sprayed with glyphosate or any gut damaging chemicals.
Consume More Sprouts
The unique thing about sprouts is that they come from little seeds. If you were to consume the seeds on their own the nutrition would not be so readily available to you and they are difficult to digest.
However, if they are grown into sprouts, you have incredible amounts of easy digestible nutrition is released when eaten.
Eat sprouts on a regular basis. Not only will you be getting peak nutrition from a plant, but you are also getting certain phytonutrients that are a superfood for your brain.
Broccoli sprouts are abundant in sulforaphane. This substance is fantastic for any type of neuro degenerative disorder.
Check price of Sulforaphane Broccoli products on AMAZON.com
Sprouts are also beneficial for your gut.
Include sprouts into your diet on a regular basis. Add them to your salads. They are very cheap and easy to grow yourself.
Check price of Sprouts seeds and Sprouts' Growing Machines on AMAZON.com
Ketones
Ketones bypass the damage in the brain and feed the neurons directly.
People with dementia are experiencing the destruction of their brain cells in their hippocampus. Due to this damage, the brain is not getting glucose fuel. Brain cells need to be restored by feeding them fuel in the form of ketone fuel. Ketone bodies are a more efficient fuel than glucose fuel.
Check price of Ketones products on AMAZON.com
3 ways to increase ketones
1.Intermittent fasting and periodic prolonged fasting give huge benefits for two reasons. Fasting generates many more ketones than you gain from being on a low carb diet. Fasting also up regulate genetic factors that support your brain.
2.Consuming MCT oil (1 tablespoon twice a day), a supplement made from a type of fat called medium-chain triglycerides will help brains by increasing ketone production.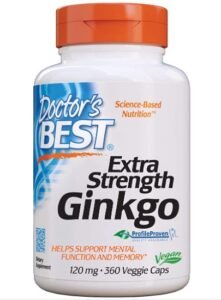 3.Exogenous ketones (buy as a supplement) are a terrific brain-enhancing supplement which may reduce cognitive decline, improve brain power, and reduce brain fog.
Ginkgo Biloba
Ginkgo biloba (specifically the extract EGB 761) has shown significant benefits for dementia patients by giving neuro protection. Ginkgo Biloba is the Maidenhair Tree native to China.
Check price of Ginko Biloba Extract products on AMAZON.com
Lion's Mane Mushroom
How does lion's mane work in the brain?
Research show that lion's mane mushroom extract may in fact support brain health by promoting the creation of two important compounds: nerve growth factor (NGF) and brain-derived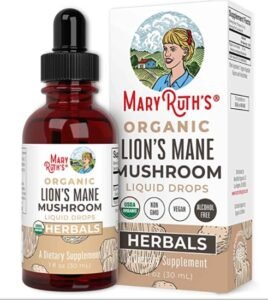 neurotrophic factor (BDNF). These are proteins that stimulate the formation of new cells and bolster existing ones.
Check price of Lion's Mane Mushroom products on AMAZON.com
Omega-3 Fatty Acids, Vitamin D, Zinc, Exercise and Sleep
Other ways to prevent cognitive decline include:
Including Omega-3 in your diet. This fatty acid can be found in oily fish and fish oil (especially cod liver oil).
Vitamin D, the free sunlight vitamin that can also be gained from diet. Foods high in vitamin D include oily fish, egg yolks, mushrooms, orange juice and many vegetables. Check price of Vitamin D3 products available at AMAZON.com 
Zinc is very important. Foods with high levels of zinc include oysters, sea foods, avocados, nuts, beans, meat and berries. Check price of Zinc products available at AMAZON.com
Exercise increases oxygen to your brain. It also increases blood flow, delivering nutrients to the brain.
Sleep is very important. If you are not sleeping enough; cortisol increases, you may be more stressed, and important oxygen to the brain is reduced.
Final Comments
In a nutshell, diet, exercise, and sleep all play a core role in preventing of the onset of dementia.
A wholesome low carb diet, rich in superfoods and free from chemicals is key.  The right diet will foster a healthy gut microbiome and provide the best brain nutrition.
Regular exercise increases oxygen and blood flow to the brain delivering nutrients for healthy brain function. This combined with quality sleep will reduce cortisol levels causing stress.
Viewing Dr. Eric Berg DC channel provided much of the content for this article. Dr. Berg specializes in Healthy Ketosis and Intermittent Fasting.
ProMind Complex- premium all natural brain supplement. Check out our Independent Review HERE.