Dementia is a serious neurological disorder that requires expert knowledge and compassion for countering it properly. A dementia care specialist's role in providing support, not just to the patient but to the families of the patient as well is a crucial one.  In this brief, we will analyze the qualities of a good dementia care specialist and see which parameters you must keep in mind when searching for a professional in dementia care.
Furthermore, we will also talk about the importance of dementia care specialist's role in the management of this neurological disorder. So, without further ado, let us begin!
Who are Dementia Care Specialists?
Let us start by defining their role. Dementia care specialists are professionals who have completed special training, as well as certifications in taking care of dementia patients. These professionals have in-depth knowledge of all the challenges that come with dementia.
Taking care of the challenges that arise from this condition using a wide array of behavioral management techniques is a part of their profession. Their knowledge about strategies which can enhance the quality of life of dementia patients is excellent. This makes them so important in this whole discussion.
3 Roles of a Dementia Care Specialist
Care plan
Primary role of a dementia care specialist is to create a specific individualized care plan for their patient. While creating such a plan, they consider the physical, emotional and cognitive needs of the patient they are taking care of.
The critical elements in such a plan include medical interventions, cognitive exercises and recommendations for creating an environment that caters to the needs of a dementia patient.
Diet plan
These professionals also ensure that their patients are following a very specific diet plan, one that is all about diet for dementia patients.
Family support
A dementia care specialist also brings an overall sense of relief and calm to the family of a dementia patient. They are good at spotting the early signs of dementia in women and men in the family and can provide solutions for vascular dementia and eating problems with ease.
Boxes to Check When Seeking a Dementia Care Specialist
Here are the boxes that you will need to check:
For hiring a dementia caregiver, you can start your search by seeking dementia caregivers who have adequate credentials and certifications. The certification you are searching for is called Certified Dementia Practitioners, i.e. CDP certificates. A CDP, is someone with a certification demonstrating achievement and specialized training in the areas of Alzheimer's disease and dementia care.
The abilities of a CDP certified expert are often reflected by their referrals and recommendations, look at them closely as well.
Healthcare professionals, support groups or other caregivers in your vicinity can be a great source for finding reputable dementia care specialists. Interestingly enough, women provide 70% of care hours for people living with dementia!
Dementia Care Services at a Glance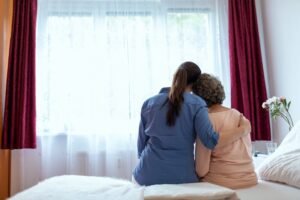 Here are the different types of dementia care services:
In-Home Dementia Care
Dementia care specialists can provide in-home service. Providing a support system within the familiar surroundings of the individual's home can do wonders for their mental health.
In-home dementia care services can enhance comfort and reduce stress for dementia patients greatly. They are considered a valuable tool in combatting dementia.
Memory Care Facilities
Dementia care specialists often provide their services in memory care facilities. They are also a regular feature in assisted living communities that are specifically designed to meet the needs of dementia patients.
The purpose of these facilities is to offer a very safe and supportive environment with trained staff, usually operating all hours, all week.
Behavioral Management
Taking care of the challenging behaviors that often feature in dementia requires specialized knowledge coupled with a lot of patience.
A dementia care professional can employ behavior management techniques to minimize agitation, aggression, and anxiety. They are very good for specific conditions such as Sundowning dementia treatment.
Caregiver Education and Support
A dementia care expert also gives education and support to dementia patients. They equip them with the necessary tools that can help them take care of their loved ones effectively.
Dementia Care Specialist – Final Thoughts
Well then, that would be all from this brief. It goes without saying that when a loved one suffers from such a life-changing condition as dementia, things become quite challenging for the family.
However, if the search for a dementia caregiver is a successful one, a lot of burden is off the shoulders very early.
Before we sign off, we will say this again: don't compromise on the requirements we have shared in this brief, and you shall be alright!
References
Hum, S., Cohen, C., Persaud, M., Lee, J., Drummond, N., Dalziel, W., & Pimlott, N. (2014). Role expectations in dementia care among family physicians and specialists. Canadian geriatrics journal : CGJ, 17(3), 95–102.
Foster N. L. (2001). Barriers to treatment: the unique challenges for physicians providing dementia care. Journal of geriatric psychiatry and neurology, 14(4), 188–198.