When caring for a person with dementia, it is possible to experience ambiguous loss in dementia.
Ambiguous loss can be described as a type of loss an individual feels when a person with dementia is physically there, but is not as emotionally or mentally present as before.
Ambiguous Loss Pioneered by Pauline Boss, Ph.D. explains that this type of loss happens when a loved one is not psychologically present.
This is where a person is cognitively or emotionally gone.
Dementia is a progressive, neurodegenerative, and fatal disease that destroys brain cells. For people who care and love for those with the illness, the ambiguous loss is a constant reminder of how challenging the illness can be.
This kind of loss is not like other types of losses.
Ambiguous Loss, Grief and Dementia
Ambiguous loss is often unclear and has not resolution, closure, or predictable ending. For instance, with death, loved ones know that the person is gone and they can grieve the loss.
With the ambiguous loss, however, individuals are usually at crossroads because there is no certainty of death and it is also not possible to tell whether they will go back to their "normal" selves.
Ambiguous Loss in Dementia Affects Everyone
Ambiguous loss does not only affect caregivers but people with dementia as well. Individuals with the progressive illness are likely to experience feelings of grief and loss over their diagnosis and the changes they go through as the disease progresses through various stages.
Some carers will not recognize ambiguous grief or know how to react when the abilities of the individual with dementia change. This type of grief can confuse relationships and prevent people from moving on.
Recognizing these feelings and understanding the concept of this type of loss can help ease the effects. It is possible to grieve the losses through guidance and support allowing carers to stay connected to the person with dementia while at the same time building resilience and strength.
Understanding Ambiguous Loss
Carers need to get an in-depth understanding of this unique type of loss. It helps caregivers come up with effective techniques to cope with ambiguous loss in dementia and live successfully with all the uncertainties that surround the progressive illness.
Carers have to learn new ways of relating with the person with the illness while becoming more comfortable with the ambiguity. This is especially because it is not possible to control the effects and progression of dementia. At the same time, caregivers have to move on with their lives while looking after the individual with the illness.
Effects of Ambiguous Loss in Dementia
Ambiguous loss can be a huge stressor for people looking after their loved ones with dementia. It can lead to several negative effects such as:
Anxiety and stress
Ongoing strain and tension
Role confusion
Family discord that may result in dysfunctional relationships
Managing Ambiguous Loss Positively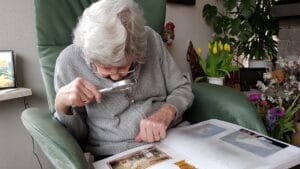 Caregivers, family members, and friends can take several steps to positively live with ambiguous loss in dementia and some of them include:
Reflection
Reflecting on the losses that occur both in the person with dementia and the one looking after the affected individual. Acknowledge this grief, express it, and share it with other persons who will be supportive and understanding. Knowing that a person is not alone when dealing with this type of loss can help offer some relief.
Engage in paradoxical thinking
Paradoxical or dual thinking allows carers to accept the presence and absence that ambiguity presents. It is where a person uses "both/and" thinking instead of "either/or" when dealing with two contradictory ideas that are true at the same time.
This helps people reframe perceptions that they cannot change. "My grandmother has dementia and needs help and I need opportunities to enjoy life" is an example of a paradoxical way of thinking.
Strengthening relationships
Strengthen existing relationships with family and friends is important. At the same time, carers should be open to establishing new relationships that can support and enhance life amid grief and loss.
Where possible, carers should continue with family traditions and celebrations (e.g., holidays and birthdays, etc) making changes where necessary.
Caregivers should also learn to create new rituals that will aid with effective daily living.
Carers should not be afraid of going out to ask for emotional support or hands-on assistance. They should also be ready to share their experiences with others in a bid to help those who may be in a similar position.
Self-care
Eating well, staying physically active, and taking practical steps towards relieving stress are options people have when it comes to taking care of personal needs. Scheduling breaks from care can also help boost morale and health to enable better decision-making and caregiving.
Identify creative outlets
Look for creative and interesting ways to express loss and grief like painting, writing, or other visual forms of art.
Get professional help
Other than reaching out to caregivers, relatives, and friends for support, professional assistance may also come in handy. Options available include well-organized support groups, licensed councillors, and professional organizations like the Alzheimer's Society.
Celebrate the happy and sad
While grieving what is lost celebrate what has been gained. It is important to always embrace what remains through the various stages of the illness. For instance, while a person may not be able to take long walks or go to the gym, they can still go to the movies.
Ignore what cannot be controlled
It is not possible to control memory loss of a person with dementia but carers can control their reactions.
Closing Remarks
Caregivers looking after people with dementia may struggle with ambiguous loss in dementia. This does not have to be something that wears the carer out. Understanding what this type of loss is and learning how to successfully manage it is instrumental in taking good care of persons living with dementia.