One of the most prominent topics that come up when talking about dementia treatment therapies and approaches has got to be dance therapy and dementia.
According to the American Dance Therapy Association, dance therapy or DMT is the psychotherapeutic use of movement to further the social, emotional, physical, cognitive and spiritual integration of an individual.
The therapy supports that body, mind, and spirit are connected and that humans should be treated in a way that supports the integration of all three.
This versatile type of therapy is also founded on the idea that emotion and motion are interconnected.
How does dancing help dementia?
Many experts recommend dance therapy for persons who have the neurodegenerative disease.
It can maintain or even improve cognitive function and memory at times.
The therapy stimulates memories and offers reminiscence opportunities. It also offers other perks such as:
Helps with Communication

Dance therapy has been known to encourage communication, engagement, and offer an outlet for self-expression.
Dancing can help persons express non-verbal behaviors, body language, and regulate emotions.
This is something that can sharpen communication skills as a person becomes more social, confident, and attentive to others.
It especially helps persons with dementia who tend to withdraw socially.
Moreover, it can brighten up their lives when they meet up with a group of people who are facing the same challenges to do something fun and meaningful with their lives.
Strengthens Body and Mind Connection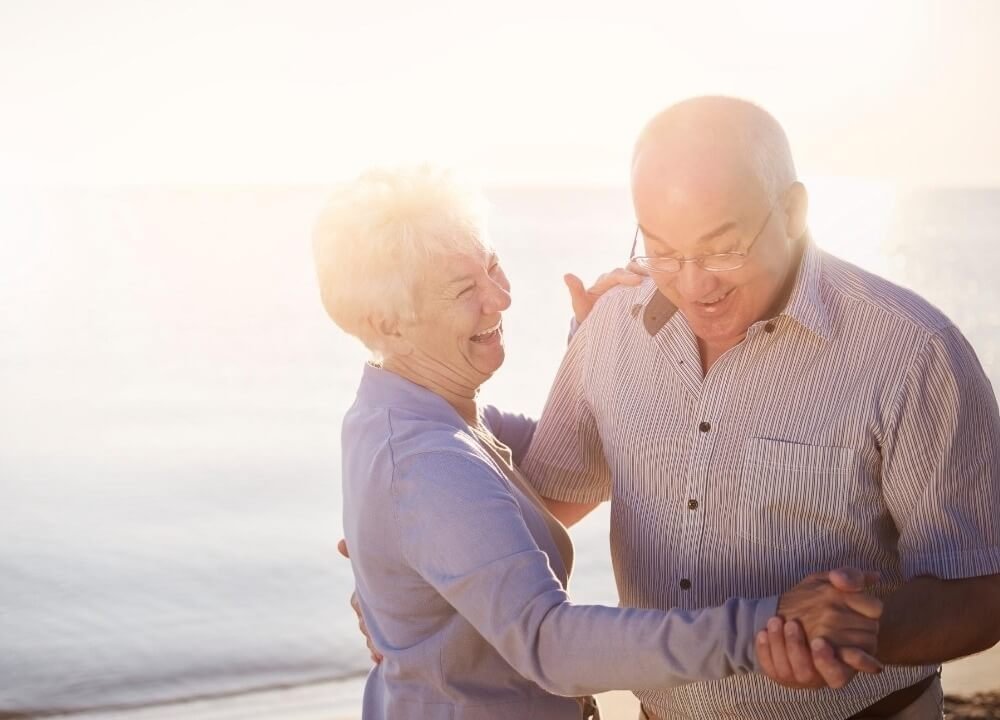 Another perk you should be aware of when it comes to dance therapy and dementia is that it helps to eliminate or reduce problematic behaviors that are a result of the neurodegenerative disease.
This can include symptoms like agitation which arise when people with dementia feel frustrated because of their changing abilities.
The therapy is not only reassuring, but it also helps to boost self-esteem and self-confidence while making a person feel calmer.
Enhances Mood and Reduces Depression and Anxiety Symptoms

A randomized controlled trial done on the effects of physical exercise and psychophysiological dance movement therapy on seniors with mild dementia reveals that the therapy helps to decrease loneliness, depression, and negative mood significantly.
The trial recruited 204 elderly persons that had a positive mild dementia diagnosis.
Researchers followed the group for over 12 months after they completed self-report questionnaires on daily functioning, psychosocial well-being, salivary cortisol measures, and neurocognitive assessments.
Builds Motor-Skills

When people with dementia take some time to enjoy dance therapy, it can help with coordination and balance which builds motor skills.
It can also help with maintaining motor functioning for the persons suffering from Parkinson's disease.
All this is thanks to the physical component of dance therapy that helps to increase coordination, muscle strength, and mobility.
It also helps to reduce muscular tension.
Promotes Relaxation

The therapy is great for relaxation because it helps to increase endorphins in the brain.
As a result of this, it helps the suffering individuals experience rhythmic movements and a sense of well-being which can make people feel more relaxed.
Improves Quality of Life

Another New Zealand pilot study touching on dance therapy and dementia also supports the idea that dance therapy has a positive effect on persons with dementia.
The researchers published their findings in the American Journal of Alzheimer's Disease and other Dementias.
They stated that seniors with dementia seem to experience an improved quality of life after being exposed to dance and music.
Researchers from the Department of Psychological Medicine and the Department of Dance used natural gestures as well as familiar reminiscent music on a group of 22 participants to come up with an original dance exercise series.
Ting Choo the lead author and Dance Studies Masters graduate explained that their aim of the study was to offer social interaction, mood moderation, and mental stimulation in a bid to improve quality of life for persons with dementia.
The researchers scheduled 10 weekly sessions offering imagination, intuition, and humor which encouraged participants to interact and dance with joy.
The findings revealed that the participants positively responded to the music and showed enthusiasm in moving to the beats in spite of their physical limitations.
During each session, the researchers observed that there was a positive response concerning spontaneous dancing, memory recalling, and joking among the participants.
Choo noted that music stimulates better response when compared to verbal instructions when dealing with individuals who are immobile and passive.
Based on the results, researchers now plan to expand their pilot study to cater for the conditions and the participants in a better way.
Choo hopes that further research can attract more support from the community.
Closing Remarks
Going through the above benefits, it is clear why dementia and dance therapy is an essential topic to discuss.
The therapy does not only involve dancing but rhythm playing, singing, physical exercise, and other fun structured musical activities that are beneficial to persons with dementia.