Sundowning, or to use its other name, sundown syndrome, is one of the most challenging aspects of dementia that affects many individuals. Basically, when a day transitions into night, dementia patients begin to experience a heightened state of agitation and confusion in this condition. The state of restlessness increases in intensity with every passing hour. Because the condition aggravates the already miserable effects of dementia, researchers have tried their best to find strategies and interventions which can help with this condition. Let us have a look at sundowning dementia treatment plans…
Sundowning Dementia's Symptoms and Effects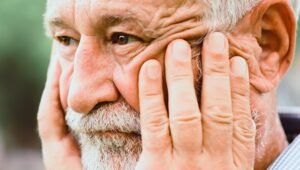 It is important to understand the symptoms of sundowning dementia in the first place before we discuss any interventions or strategies to counter it. Usually, this condition is characterized by a set of symptoms that become more pronounced in the later parts of the day. Some of these symptoms include:
Once these symptoms are observed and the presence of sundowning dementia is affirmed, one can move towards appropriate management techniques.
How to Cope with Sundowning Dementia?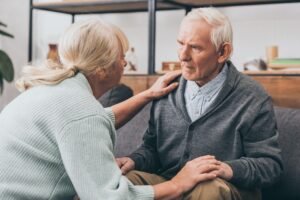 Ok, so let us talk about sundowning symptoms treatment. The first thing to do in such a situation is to establish a calm and soothing environment during the evening hours. This can help in cutting down the intensity of the symptoms associated with this syndrome.
Some of the things that can be done in this regard include dimming the lights, playing soft music and minimizing noise and distractions. As you can sense, the idea is to minimize anxiety and restlessness.
A consistent daily routine for individuals suffering from dementia is often considered quite important. It goes the same for people suffering from Sundowning dementia. By maintaining this consistent routine, a sense of security can be provided to the patients.
Here is another tip for coping with sundowning in dementia. Dementia care specialists often encourage Sundowning dementia patients to engage in daytime activities and exposure to natural light.
The goal of these exercises is to positively impact sleep patterns and overall well-being. Physical exercises can reduce restlessness and improve sleep quality, thereby minimizing the severity of Sundowning dementia's symptoms.
Also, vascular dementia and eating problems often require a proper diet for dementia patients; take care of that as well.
Interventions to Consider For Sundowning Dementia Treatment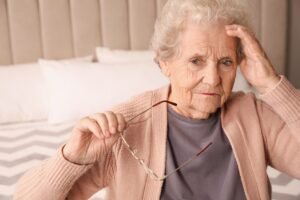 Light therapy:
Talking about sundown syndrome interventions, Light therapy is a technique that involves exposing a patient to bright light during specific periods of the day.
It has been observed that the intervention is quite an effective strategy in regulating circadian rhythms and improving the sleep patterns in individuals suffering from sundowning dementia.
Sleep:
Then, there are melatonin supplements, formulas that can address sleep disturbances in patients suffering from dementia.
However, one must consult their healthcare professional before decision for a melatonin supplement; Melatonin is a hormone that regulates the sleep-wake cycles. It must be used with great caution and care.
Communication:
It so happens that the patients suffering from sundowning treatment often fall prey to communication disorders. They are often in need of proper and effective communication and chats that can minimize their anxiety and frustration.
Feelings:
Hence, dementia caregivers often rely on such techniques to calm down the patients suffering from Sundowning dementia. Also, validating the feelings and experiences of patients suffering from dementia can prove to be quite instrumental in comforting and reassuring them.
Distracting activities:
Activities such as listening to familiar music or scrolling through a photo album they own are often endorsed by caregivers.
Cognitive behavioral therapy:
We would also like to mention the importance of cognitive behavioral therapy here. This type of therapy, also known as validation therapy sometimes, is considered to be quite effective for individuals suffering from Sundowning dementia.
It so happens that often the behavioral patterns are off the normal routine in such patients. Addressing their emotional problems can often help overcome the challenge of Sundowning dementia.
Talking helps:
If there is a family member or friend that you know suffers from Sundowning dementia, talk to them. Sometimes, their agitation is quite visible as they watch the day transition from dawn to dusk.
Be with them, chat with them, and spend time with them. It is said that our friends are those who stay close to us in periods of darkness; well, you have to be that friend.
Final Thoughts – Sundowning Dementia Treatment 
That would be all from this brief. As you read in these lines, sundowning dementia presents itself as a unique challenge for both dementia patients and caregivers.
The usual strategies that are employed to counter dementia are somewhat modified in the case of Sundowning dementia treatment. However, the important thing to note here is that it is not something that cannot be tackled.
The best sundowning  dementia treatment includes a clean environment, consistent routine, daytime activities and support during the darkest hours, can create a big difference.
Light therapy and melatonin supplements can also be relied upon. However, a healthcare professional's opinion must be sought before relying on these techniques.
If all of this is done in a careful and coordinated manner, the life of Sundowning dementia patients can be improved by a great deal!
In fact, if one can keep a lookout for early signs of dementia in women and men, a lot of problems later can be avoided.
References
Burney-Puckett M. (1996). Sundown syndrome: etiology and management. Journal of psychosocial nursing and mental health services, 34(5), 40–43.
Khachiyants, N., Trinkle, D., Son, S. J., & Kim, K. Y. (2011). Sundown syndrome in persons with dementia: an update. Psychiatry investigation, 8(4), 275–287.
Canevelli, M., Valletta, M., Trebbastoni, A., Sarli, G., D'Antonio, F., Tariciotti, L., de Lena, C., & Bruno, G. (2016). Sundowning in Dementia: Clinical Relevance, Pathophysiological Determinants, and Therapeutic Approaches. Frontiers in medicine, 3, 73.