While we were researching social robots in advanced dementia, we found many positive effects.
Technology has come a long way. We now have social robots which are essentially artificial intelligence systems designed to interconnect with each other.
Most importantly, INTERACT with humans.
They have proven as beneficial assets in different fields and in the workplace. Robots perform tasks like basic customer service while at home they (can) become an extended part of the family.
Several studies revealed the POSITIVE OUTCOME of employing the use of social robots in advanced dementia treatment.
Using Social Robots In Advanced Dementia Treatment

Most of the studies on using social robots as part of the treatment and care in advanced dementia only show impact during the time of interaction.
Social robots CAN ASSIST people with dementia in diverse ways.
These include serving as a daily life assistant, exercise coach, and offering companionship.
Given that the research and these robots are still in their infancy in a sense, there are no studies assessing their medium or long-term effectiveness in dementia care.
Regardless, most of these studies conducted in the span of a couple of weeks to three months show positive results in facilitating cognitive stimulation therapy (CST).
One such study conducted over a nine-week period at a nursing home saw a SOCIAL ROBOT INTERACT with eight different people with dementia.
The study incorporated elements like cognitive games, music therapy, relaxation, and reminiscence.
In the end, the study noted that three symptoms significantly decreased.
These were euphoria/exaltation, delusions, and agitation/aggression.
Interviews with caregivers further revealed that the participants exhibited positive effects after the sessions.
The study concluded that social robots can play a vital role in enhancing the quality of life for people with dementia.
In yet another study a humanoid robot (NAO), a real dog, and a pet dog (PARO) were incorporated in therapy sessions at the Alzheimer's Center Teina Sofia Foundation (ACRSF) daycare center and the ACRSF nursing home.
PARO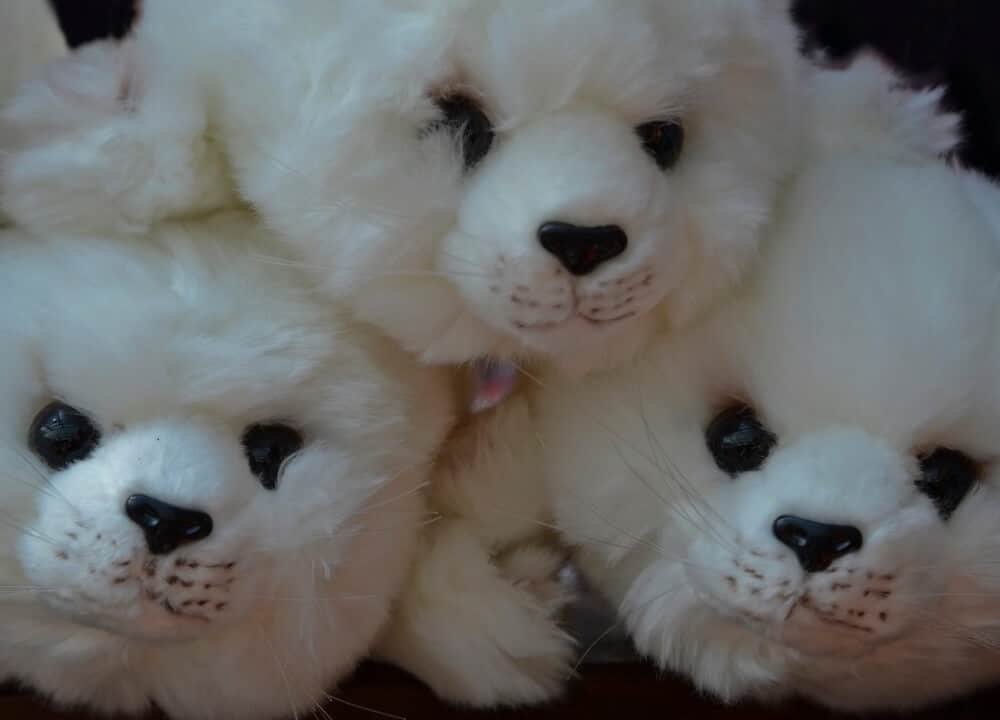 The PARO is a social robot that resembles a baby seal in terms of appearance, sound, and movement.
It is programmable with sensors controlling lights, posture, sound, and touch.
PARO can move its neck, tail, and anterior flippers in upward and downward motions as well as laterally.
It also emits short squeals like a seal.
NAO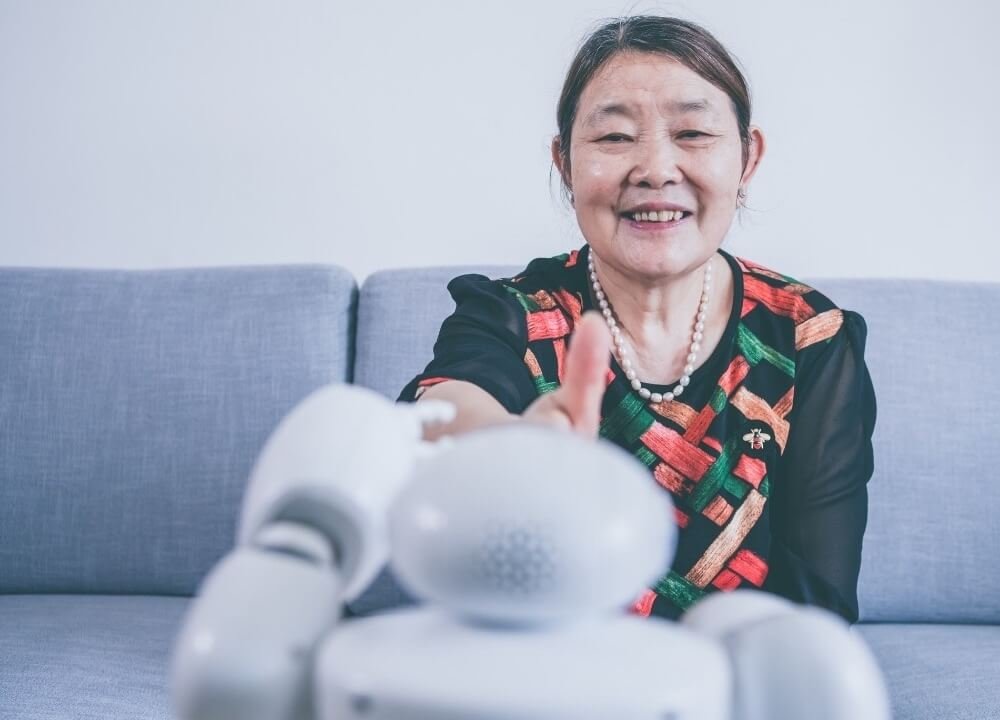 The NAO is a humanoid robot that is significantly larger in stature compared to the PARO.
It also features sensors that control vision, movement, sound, touch, and sonar. The humanoid can also TALK and SING.
It's possible to replace the robotic voice with MP3 recordings with a child-like voice that is easier for dementia patients to understand. In the study, the NAO used resembled dogs.
In the nursing home, the three different THERAPEUTIC TOOLS (PARO, NAO, and a real dog) were employed during therapy sessions based on the severity of dementia.
The daycare center had people with dementia work with NAO during the first phase followed by PARO in the second phase.
In all cases, patients were assigned only one of three therapeutic tools.
The therapy sessions were conducted two days each week over a three-month period. 148 people with dementia participated in the study.
The results found that the group that interacted with NAO robots at the nursing home displayed improvements in apathy.
The daycare group that interacted with NAO robots in the first phase had marked improvements when it came to their Neuropsychiatric Inventory (NPI) irritability score.
A Selection of Social Robots in Advanced Dementia Available on Amazon
Product
Features
JOY FOR ALL - Orange Tabby Cat - Interactive Companion Pets - Realistic & Lifelike
Comfort & companionship
Cat-like movements & sounds
Award winning
Built in sensors
Designed for seniors
Chongker Interactive Companion Pets Robot Cat Lifelike with Voice Command & Rich Animation Interaction Lifelike Realistic Stuffed Animals Cat Plush (Robotic Cat)
Voice commanded
Built in sensors
Handmade
180 day warranty
Companionship & fun
Designed for seniors
Chongker 3LB Weighted Stuffed Cat Animal Realistic Plush Cat Handmade Companionship
Customer 5 STAR reviews
Designed for hugs
Realistic weight
Man made
High quality materials

Cute Robot Pets for Adults, Your Perfect Interactive Companion at Home
Many emotions
Many interactions
Evolving & adapting
Comfort Therapy Doll for Alzheimer's African American
5 STAR customer reviews
Portion of proceeds donated
Lifelike
Weighted cloth body
OY FOR ALL - Freckled Pup - Brown and White Soft-Touch Coat - Realistic and Lifelike Interactive Companion Pets
10 puppy options to choose
Realistic sounds & motions
Lifelike touch
Built in sensors
Closing Remarks – Social Robots in Advanced Dementia
The research processes on the various conditions that affect the brain's health continue to identify NEW, PROGRESSIVE, and more EFFECTIVE ways of managing dementia.
The physical symptoms of the condition present themselves differently from one person to the next.
The treatment and care options currently available can positively impact the state of a person with dementia.
These interventions are worth exploring particularly the lifestyle changes that everyone can adopt in their lives.
Social robots in advanced dementia care also show the potential in helping people with dementia combat some of the symptoms that come with the condition.
::
Bonus: The Debilitating Effects Of Dementia
Dementia refers to a set of syndromes marked by the deterioration in thinking, memory, and behavior as well as the inability to execute everyday activities.
The scary fact is: dementia is becoming a natural part of the aging process. But that does not necessarily mean everyone will get dementia.
Statistics suggest that 50 million people the world over suffer from dementia.
Each year, there are approximately 10 million new cases of people who have some form of dementia.
One of the common forms of dementia is Alzheimer's disease accounting for 60 to 70% of dementia cases.
The debilitating effect of dementia leads to DISABILITY. People with the condition are dependent on family members or caregivers to go about their day-to-day life.
In essence, dementia affects someone psychologically, physically socially, and economically. Family members and carers also feel the impact.
That is where technology can step in and offer a helping hand. With this comes the use of social robots in advanced dementia care.
Approaching Dementia Care and Treatment Progressively

When talking about managing care and treatment for dementia, it all depends on the underlying cause.
To reiterate, dementia refers to syndromes pointing to other illnesses, and it advises the approach in care and treatment.
Medicated Interventions
When it comes to Alzheimer's disease, sadly no cure exists. The treatment options available simply alleviate the symptoms that crop up.
Some of these medical interventions can actually temporarily IMPROVE symptoms.
Often, the same medications prescribed for Alzheimer's prove especially helpful in handling other progressive forms of dementia.
Lifestyle Changes
The Alzheimer's Association International Conference held in 2019 reported that adopting healthy lifestyle choices contribute to the care and treatment process to reduce the effect of cognitive decline.
This includes aspects like quitting smoking or not picking up the habit entirely, exercising regularly, and engaging in activities that STIMULATE the brain.
Currently, a lot of research is underway to find new and effective treatments for dementia.
Increased participation by people who are affected in clinical studies also increases the likelihood of finding alternative ways of treating the symptoms.
We cannot change certain things, which also contribute to the choices in dementia care.
For instance, genetics and age are elements that CONTRIBUTE to the risk factor of developing dementia. As well as other illnesses that affect the health of the brain.
Non-Pharmacological Treatment Options
Non-medicated therapies also prove helpful when it comes to alleviating some of the symptoms of dementia.
One example of non-pharmacological treatment for dementia is animal-assisted therapy (AAT).
However, this form of therapy is not accessible to all people with dementia.
Animals are often prohibited in daycare centers and nursing homes.
Allergic reactions and the person's degree of dementia also typically prevent the use of AAT in dementia care.
The use of social robots in advanced dementia care is also GRADUALLY ON THE RISE as a non-medicated treatment option.
The Social Impact Of Dementia
Dementia comes with a SIGNIFICANT social impact to both the person afflicted as well as their family members and caregivers.
Depression, social isolation, cognitive inactivity, and low educational attainment are some of the additional risks factors that come with it.
Combined with the economic implications related to social and medical costs, dealing with the condition can become tasking to both the person with dementia as well as their family.
That is why exploring options like including social robots in advanced dementia care can make a BIG difference.
Dementia can get overwhelming not only for the person who has it but also for their families.
They have to offer care, physical and emotional support as well as meet financial obligations.