There are ways and approaches that make living with dementia a lot less stressful on the person, loved ones and caregivers.
For most people, a positive dementia diagnosis means a life sentence full of nightmares and all the bad experiences imaginable.
These feelings are heightened by the fact that there is still no cure for the illness.
It is, however, important to note that living with dementia does not have to be the worst thing a person can go through.
Guide on Living with Dementia
Below you will explore some of the tips and recommendations that a person with dementia can work with to live a more fulfilling and independent life for the longest possible time.
1. Accept your Situation

After getting to know that you have dementia, it is tempting to keep the news to yourself and pretend that everything is in place.
This is the wrong move.
It is advisable to share the news with people who care about you.
It does not mean that you have to go on the rooftops and shout about your health condition.
Take as much time as you need but when you are ready, do not shy away from sharing this news with people you love whether it is your relatives or friends.
This way, they will be in a position to understand what you are going through, especially when you start going through some changes that the disease causes.
Communicate
As you share the news, it is important to understand that different people will take in the news differently.
Some will be shocked and they may immediately start treating you differently.
It's important to communicate about dementia.
Many will do this because they do not know what dementia is and have no clue what to do to help.
Try and explain what your diagnosis means and also tell them the ways that they can be of assistance.
For instance, if you cannot drive, your support system can step in to drop and pick you up when you need to go somewhere.
As much as it is hard to accept, you can also find that you might lose touch with some individuals.
Try and take these changes in your relationships positively.
After all, you might end up meeting new people in support groups or while engaging in different activities.
2. Learn about Dementia

Millions of people around the globe are battling with dementia and new cases are coming up every year.
A person who is living with dementia needs to have in-depth knowledge of the illness to live well with the condition.
Thankfully, there is a wealth of information about dementia, including its stages and helpful treatments.
Your doctor should give you details about the illness and also offer referrals to valuable resources.
Empowering yourself means that you will be more equipped to face the challenges that lay ahead. You will also know how to better handle the symptoms you get.
3. Take Care of Your Whole Being

What this means is that you need to take good care of your physical body, spiritual, psychological, and emotional health.
In regards to physical health, it is important to engage in exercises that you can handle with ease.
You also need to check what you are consuming so that you are always eating a balanced diet. This way, the body will get the nutrients and minerals it needs to boost your immune system.
Take care of your psychical and physical health
Getting enough sleep is non-negotiable.
It is also prudent to take care of your mental health by participating in stimulating activities that you can find in classes or hobbies. Various group activities are also fun.
Your doctor might also propose that you cut down on smoking and drinking alcohol or stop altogether.
When it comes to emotional health, remember to allow yourself to go through a range of emotions, especially when you first get the news.
After accepting the situation, you can go ahead and join a support group. It is best to join one with people who have dementia, whether offline or online.
Also, it is a great coping mechanism because you will not feel like you are alone and members of the group can help each other through their journeys.
It is also crucial to find something that will nourish you spiritually.
Some individuals may gravitate towards spending time in nature, religion, or calming activities like yoga.
Do all it takes to live a happy, stress-free life when dealing with dementia.
4. Plan Ahead

Sadly, it may reach a point where a person living with dementia is not able to make proper decisions.
For this reason, it is vital to plan for your future when you are still independent and can make sound decisions.
Long-term plans for dementia
1. Choosing a person you trust to act on your behalf in terms of managing your medical and financial needs.
2. Creating a will so that after breathing your last breath, your possessions, money, and property will go into the persons you pick.
The state gets to decide who will get what if you die without having a valid will.
3. Making a statement in advance about the care that you want to receive during the later stages of the disease as well as where you want to receive the care from.
This is a written statement that will highlight your beliefs, wishes, preferences, and values in terms of future care.
The person that you choose to handle important issues in the future will be your attorney. Failure to pick an attorney means that no one will have the right to make decisions when you are not able to.
This is something that can make things difficult for your family because they may not be able to pay bills or make good decisions about your care.
When it boils down to this, a person may be forced to apply to become your deputy at a Court of Protection. This is a costly process that may end up taking a lot of time.
5. Live in a Dementia-Friendly Environment

An individual who has dementia should live in a comfortable and safe environment.
If you choose to live at home, some modifications that can be done to create a suitable living environment.
Some of the changes that you can make around the home include working with a recognizable and meaningful interior design that incorporates your life story complete with words and pictures.
Making sure the house has good natural lighting is also important when you want to reduce shadows and glare.
Detectors for falls, GPS, alarms, and sensors can help boost security.
A tablet or smartphone can also come in handy because you can use this to organize your life, keep track of what is going on, revisit videos, and photos, and also communicate with your relatives and friends.
6. Stay Active and Busy

When you are living with dementia, it becomes easy to withdraw socially and wallow in self-pity. You must resist this urge if you want to enjoy a quality life even into the later stages of the illness.
Staying active is also important because it will give you a sense of self-worth and purpose.
Find activities that you love and enjoy them to your heart's content. Many service providers today are sensitive to the needs of a person who has dementia.
Occupy your body and mind
For instance, some cinemas put on dementia-friendly screenings which means you can go out and enjoy the latest film.
Many leisure centers also run appropriate activities for persons with dementia which means that you have a long list of activities to choose from.
When moving about, it is imperative to carry a card that will let other people know you have dementia.
The card should include details of a person that others can contact if you get lost or are in some sort of emergency.
When you do not have the energy to jump or move around, there are other ways to keep busy. Examples of these include listening to music or doing crosswords.
If you have grandchildren, you can offer to babysit for a few hours. There is also the option to volunteer to avoid the risks of loneliness, isolation, and depression.
7. Follow Routines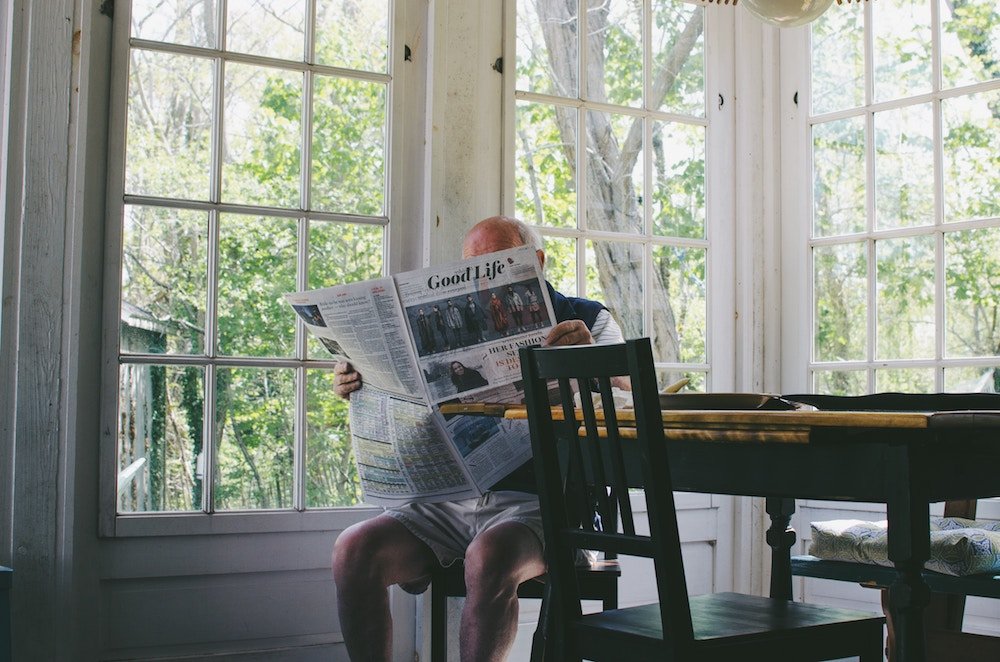 Sticking to routines is another way that people who have dementia can live well.
Do the same thing at the same time each week or day. This is bound to reassure you while at the same time stimulating your memory.
Having set schedules can also help you reduce the time you spend thinking about what needs to be done next.
If you always forget about things you need to get done regularly, you can pin your to-do-list on prominent places. This can include things like switching off lights or locking doors.
Some people with the illness also say that it helps to carry a notebook and pen around where you can write down the tasks you need to complete in a day.
You may also find that it is helpful to put important things like keys or glasses in the same place daily so that you do not have a problem locating them.
Additionally, a clock that shows the day of the week and date can come in handy.
8. Set Realistic Goals

It is not uncommon for a person who has dementia to want to prove to the world that they are overachievers and the disease is not pulling them down.
This may lead a person to become over-ambitious where they want to handle more than they can chew in regards to day-day activities.
When you find that you cannot do all the things you set out to it can be frustrating and you might even fall into depression.
For this reason, it is important to set realistic goals so that you only focus on things you can do and complete without too much struggle.
Seek help when necessary
Remember that it is okay to ask for help from professional caregivers, family, or friends when you are in need.
When you decide to take up any task, give yourself adequate time to complete it first so that you are not always rushing into new tasks creating more confusion.
Most importantly, do not pressure yourself to be successful. Accept that there are things you were once able to do in the past that you can no longer complete at present.
It is better to focus all your attention on the things you can control, rather than spending hours on the ones you cannot control. Even as people are helping, make sure that they are not taking over.
The people around you might end up offering more help than you need which will leave you with nothing to do.
9. Coping At Work

During the initial stages of the disease, a person living with dementia may choose to continue working.
If you choose to take this route, it is important to let your boss know about your current health situation if you are employed.
Employers have a legal duty to take necessary steps to ensure you can continue working without too much difficulty.
This can include simplifying routines, changing work schedules, or availing technology like a computerized diary that will remind you of meetings and deadlines.
If you do not want to continue working, first research on matters pertaining to pension and other benefits you are eligible for before leaving the workforce.
This way, you will not be short-changed in any way.
10. Go for Regular Hearing, Eyesight and Dental Checks

Having dementia most of the time means that you will also experience sensory loss. This makes it hard for you to make sense of the world.
Because of this, you must regularly schedule oral, hearing, and eyesight checks to live well with dementia.
Ideally, you should consult a professional who has experience supporting persons with the illness.
During these visits, your doctor may recommend the use of hearing aids or glasses.
Do not avoid doctors
You should never ignore dental checks because poor oral hygiene can, at times, affect your eating and drinking abilities.
At home, you should also take care of your dental health by brushing your teeth at least two times a day, flossing, and eating healthy foods that will not lead to cavities and other oral health problems.
If you are using dentures, ensure that they are comfortable. You can always set reminders to guide you on the times to remove and wear them.