We take an in-depth look at the close connection between physiotherapy and dementia.
I cannot express myself enough how important is exercise and movement, which I continuously encourage my grandparents to participate in.
While there is still no cure for dementia, there are certain interventions that can help people who are living with the disease.
One of the most common ones is physiotherapy.
According to Physiopedia, physiotherapy plays a huge role in maintaining and promoting mobility in persons who have dementia.
It also helps to reduce the burden of care and improve the quality of life for individuals with the illness.
By implementing professional physio, it helps improve psychological, physical, and social well-being. Through simple body movements.
The experts use different kinds of exercises with persons who have dementia.
Some of the most common ones include:
Group exercise classes that enhance mobility and balance
Pool-based therapy where participants do not only engage in exercises but also practice handling multiple tasks at once
Virtual reality dancing using innovative systems such as Nintendo Wii to mimic movements as well as receive tactile and auditory feedback. Or participating in dance therapy
Technology-based prompting systems designed to deconstruct everyday tasks by creating written or verbal prompts
Physiotherapists usually offer personalized services depending on what a person needs when dealing with physiotherapy and dementia.
This helps them come up with the most effective ways of helping the individual with the illness.
Physiotherapy and Dementia Benefits
There are multiple ways individuals with dementia can benefit from physiotherapy sessions.
Improving Balance

Many people who have dementia usually experience poor balance which increases the risk of falling.
Physiotherapy can reduce the risk of falling by offering exercises that are designed to improve balance.
Physiotherapists can curate fall prevention programs that can address the fear of falling.
It helps persons with the illness maintain their independence and safely complete daily living tasks.
Physiotherapy Promotes Exercise

The benefits of exercise are immeasurable for everyone – including people with dementia.
People with dementia need to get up and move about depending on their capabilities. This can help prevent an array of medical conditions.
Physiotherapists can help people with dementia take part in appropriate exercises.
They can develop different beneficial programs like:
Strengthening exercises that will decrease the risk of osteoporosis and increase bone strength.
Stretching and Flexibility: These can help a person move around easier and they can assist in muscle tightening.
Postural Management: To prevent poor posture it is important for a person to regularly change their position. Physiotherapy assists in this leading to increased comfort levels as well as decreased joint movement and pressure sores.
Some of the exercises that the professionals recommend include seated exercise group, walking and utilizing technology like Wii.
Exercise is IMPORTANT because it can help improve the mood and thinking of people who have dementia.
This in turn can encourage social interaction and reduce the need for medication. It can also help people who are from surgery recover better and faster.
In some people with progressive illness, working out can have a POSITIVE IMPACT on the psychological and behavioral symptoms of the illness.
By exercising, persons with can dementia enjoy better sleep and feel less fatigued.
To encourage persons with dementia to exercise, physiotherapists do not only lead activities, but they can also lead recall or music classes.
Pain Management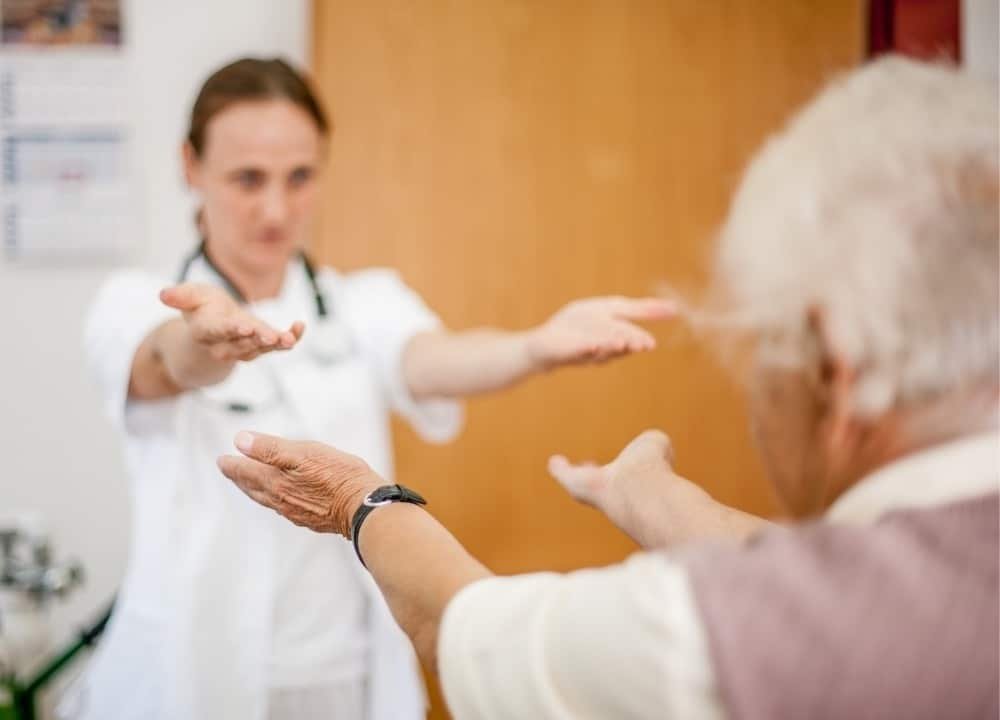 When discussing physiotherapy and dementia, it is important to mention that drug-free therapy can help in pain management.
People with dementia may experience pain for a wide range of reasons. Including pressure sores, infections, osteoarthritis, and falls among others.
Pain CAN AFFECT motivation, mental function, and how persons with dementia respond to rehabilitation programs.
Some people with dementia may have a hard time expressing they are in pain.
Physiotherapists help in identifying and treating pain. They also offer the support that ill people need.
Reduce Care Burden

Carers who look after individuals with dementia usually display poorer health when compared to their peers.
Physiotherapy helps to reduce care burden by educating caregivers and also encouraging independence among people who are living with dementia.
This can give carers more free time to take care of themselves. Consequently, they can be happy and healthy while executing their caregiving responsibilities.
Helps in Saving Costs

Physiotherapists contribute a lot when it comes to offering improved care for people who have dementia.
CSP reveals that physiotherapy services for individuals living with dementia have been identified as a key cost saver saving up to £6 million annually.
This is because physiotherapists can help in the early discharge of people so that a person with dementia does NOT have to stay in the hospital for too long.
For instance, if a person suffers a common hip fracture, they are usually required to stay in the hospital for an average of seven days.
The majority of people with dementia will end up staying in the hospital for about fourteen days.
Some may even stay for a month or more.
The longer a person stays in the hospital the more costs are incurred.
However, when working with a physiotherapist, people will dementia will end up staying fewer days in hospital incurring fewer costs.
A case study on the above was done in Greenview Intermediate Care Unit.
This is an institution that offers rehabilitation for persons who have delirium and dementia offering them an opportunity to go back home.
Persons at Greenview go through physiotherapy sessions five days a week following home visits and assessments to evaluate risk factors before they are discharged.
More than half of the people go back home safely.
The professionals conduct further follow-up home visits to assess progress as well as collaborate with other agencies to make sure the individuals discharged STAY SAFE at home.
The service has seen a reduction in people staying in hospital which ends up reducing costs and preventing hospital admissions in the future.
Physiotherapy and Dementia Closing Thoughts
There are a few things that CANNOT be ignored when it comes to looking after a person with dementia. One of them is physiotherapy.
While physiotherapy does not cure dementia it can help slow down cognitive deterioration, enhance mobility, improve the quality of life, and help a person with dementia lead a more dignified life.